Alyssa Williams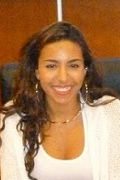 Four planes and hundreds of miles of ocean would be traveled, to satisfy my yearning for knowledge of a place that I had never known. Nestled perfectly between the mountains and sea lies Genoa, Italy. Traveling to this faraway place would bring forth the realization of just how important studying abroad truly is. Genoa holds within its city walls a piece of me fulfilled by the vast knowledge that I acquired on my two month stay that would serve as a life changing experience.

My name is Alyssa Williams; I am currently a senior studying political science and international relations. Recently I have decided to pursue a certificate in European Studies after my experience studying abroad in Genoa. The study abroad program gave me the opportunity to take courses in Italian history and Italian language with amazing Italian professors from Genoa. Quickly it became apparent to me that the most stimulating and rewarding way to learn is by actually seeing, living, and ultimately being completely consumed, by what you spend hours reading about in text books. Once the school week came to a close it was followed by unforgettable weekend trips to the many beautiful and welcoming cities of northern Italy and the Amalfi Coast. Rome, Pisa, Florence, Milan, Cinque Terre, Nerve, Portofino, Turino, Venice, and Camogli all quickly became the setting for memories that I will hold dear to me as I look back on the summer of 2013.

As I reminisce, Genoa is playful laughs as you wait in line at the bakery to get fresh focaccia, and croissants de crema. Laughs are then quickly followed by feet running and hearts racing up and down hills to make it to class on time. It is standing in Brignole train station, smiling slightly and engaging in small conversations with people I will never see again. Genoa is cheap pizza and good wine for the many nights that turned into morning. Days fade into night, and the moon beams beside tips of roof tops on cathedrals. The city then becomes quiet; as though it is trying to hide all its beauty from the stars. Of course, this attempt is failed because; nothing is more breathe taking than taking a stroll through Genoa at night, at night all its secrets are revealed. Genoa, is a teacher delivering history lessons as you look and marvel at buildings that have stood tall and strong with Genoa from the very beginning.

The opportunity I had to experience these unforgettable cities is a memory that will never be lost. I have fallen in love with Genoa, in this beautiful city I have found a piece of myself I did not know was lost, and a home away from home. The memories created in the house, and the friendships I have made with strangers, I will keep with me forever. We have all taken different paths in our life, but our curiosities, passions, and longing for places we have never visited is what brought us all together. Genoa will forever be the place that I never knew I needed to know, I have knowledge that surpasses understanding and friendships as a result. My heart is indebted to the opportunity bestowed on me to study abroad.