Honors Spain Program Summer 2017: Miami España: Ida y Vuelta
Honors Spain Program Summer 2017: Miami España: Ida y Vuelta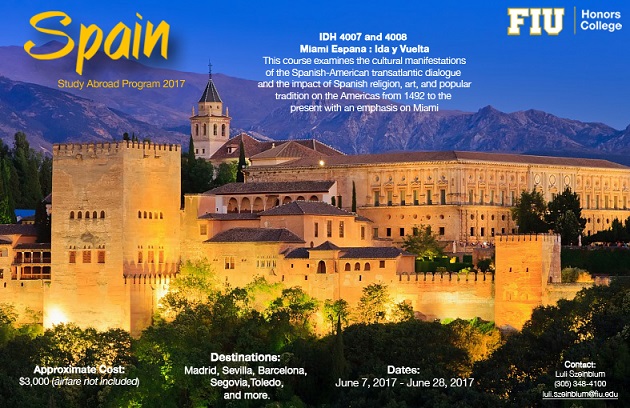 COURSE DESCRIPTION


The history of the Spanish American transatlantic dialogue is both ruinous and enriching. With an emphasis on Miami, this course examines the social and cultural manifestations of this relationship. What impact has Spanish religion, art, and popular tradition had on the Americas from 1492 to the present (ida)? Conversely, what has returned to Spain from Latin America (vuelta)? How specifically has this melange manifested itself in Miami, positioned as the contemporary center of European and Latin American relations?

Reflecting on the sacred (Catholicism, language, art) and the profane (futbol, tapas, paseo), students will develop unique cultural perspectives based on study and experience. This course focus on Culture, Transatlantic Dialogue, History, Art, Culinary History, and Sport.

Location Description

After a semester exploring the Spanish influence on the Americas in Miami, students will spend three weeks in Madrid, Sevilla, and Barcelona studying Spanish culture and searching for American manifestations in Spain. In addition the class will make day trips to Segovia, Toledo, El Escorial, and Montserrat.

Program Overview


SEMESTER

DATES

On-campus: January to May 2017
Abroad Summer C: June 7-28, 2017

COURSES

Miami España: Ida y Vuelta

On Campus: IDH 4007—Miami España: Ida y Vuelta (3 credits)
Abroad: IDH 4008—Miami España: Ida y Vuelta (3 credits)


CREDITS


COST

The program cost is approximately $3,000 + airfare ($700 to $1500), and includes accommodations, some meals, local transportation, group visits, activities, Museums, etc.
The program cost doesn't include airfare, $250 Honors College administrative fee, $175 Office of Study Abroad fee, FIU tuition, passport, and other necessary documents, vaccinations if needed, Personal expenses.


Prof. John Bailly
Program Director
Honors College
T: 305 348-4100 \ E: baillyj@fiu.edu
Office of Study Abroad (OSA)
T: 305-348-1913
edabroad@fiu.edu