Isabella Venturini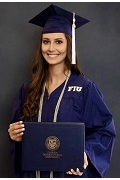 My name is Isabella Venturini and I graduated in December of 2019 with a Bachelor in International Relations, Minors in Spanish, French, and Business Communications, and a Certificate in European & Eurasian Studies. I first heard about the European & Eurasian Studies Certificate as a freshman from one of the students in an INR course who was graduating that semester with the Certificate and had also interned for the Miami-Florida Jean Monnet European Union Center of Excellence. I decided to apply for the Certificate because my grandfather is Italian and I wanted to be focused on a region in the world that shares so much history and social and economic relations with the United States. The people, professors, and classes were a bonus to my academic enrichment.

In 2017, I interned under the amazing guidance of Associate Director Christine I. Caly-Sanchez and aided her with executing events such as conferences, lectures, and video conversation with other universities to bring awareness of European integration in America. That year was memorable because Hurricane Irma canceled two weeks of classes and we had to reschedule everything for the Fall 2017 semester. (We did it!!!).

At one of the conversations, "European integration through Study Abroad?", I was inspired to apply for a study abroad and was accepted to be part of an international student exchange at Sciences Po Aix en Provence in France for the Spring 2018 semester. Some of the classes I took at the Grand Ecole counted towards my Major and the European & Eurasian Studies certificate. This was a win-win situation, because I was able to take classes with European professors and students from all over the world, which genuinely opened my eyes to new perspectives and beliefs that a student does not have access to living in the United States bubble. I highly recommend being an international student for a semester, especially in a country where you imagine yourself wanting to move to in the future, because being exposed to a new education system, language, culture, and attitudes can really show you whether or not you could adapt to a new way of life.

Having this experience gave me the opportunity to be a cyber team intern for the Department of Justice's Office of International Affairs during the Fall 2018 semester. It cemented in me the understanding of the legal aspect of cybersecurity and the mutual benefits of order that comes about from sharing electronic evidence via mutual legal assistance requests. Working on different requests from around the world marked the start of how I want to continue to work towards something that would aid those in my own country and those abroad.

When I arrived back to Miami for the Spring and Summer B 2019 and semester, I was able to be a Public Affairs intern under the guidance of Ms. Nathalie Cluzet-Bertot, Press Attaché, Head of Public Affairs for the French Consulate in Miami where I researched political and economic issues that affect the region of Florida and aided in recognizing American World War II Veterans with the French Legion Award by reaching out to candidates and their families and composing their biographies.

In short, I am so grateful for the many experiences that came about from the doors that opened because of this Certificate and the European and Eurasian Studies Program. I highly recommend you apply for it too!