Tatiana Kostadinova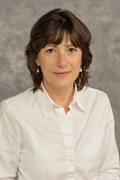 Tatiana Kostadinova is a professor in the Department of Politics and International Relations and the director of the European & Eurasian Studies Program at FIU. She received her Ph.D. in Political Science from the Florida State University. Her research and teaching interests include elections, institutions, democratization, political corruption, and populism. She has been the recipient of several grants, among which the American Political Science Small Research Grant (2002) and a Fellowship Program Award from the German Marshall Fund of the United States (2003-2004).

Kostadinova is the author of two books. In Bulgaria 1879-1946: The Challenge of Choice (East European Monographs/Columbia University Press, 1995) she explored institutional arrangements, party competition, and voting patterns in Bulgarian parliamentary elections. The second book, Political Corruption in Eastern Europe: Politics After Communism (Lynne Rienner, 2012) analyzed the emergence of corruption as a major obstacle to successful democratic transition. Her findings turn the attention to the eroding impact of malfeasance on citizen trust in institutions and the role of the European Union for promoting integrity in public life. Other publications include journal articles in American Journal of Political Science, Electoral Studies, Journal of Peace Research, European Journal of Political Research, Political Research Quarterly, Party Politics, and Europe-Asia Studies.

Professor Kostadinova's primary teaching area is comparative politics. At the undergraduate level, she teaches courses on Russian and Eastern European politics, electoral behavior, and research methods. Her graduate level courses include seminars on democratic transitions, political parties, political corruption, and advanced research.