Jonathan Mogul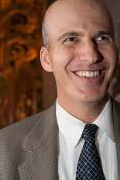 Jon Mogul, The Wolfsonian-FIU's Andrew W. Mellon Foundation academic programs coordinator, has been appointed chairman of the Association of Research Institutes in Art History (ARIAH), an international consortium that comprises 22 member institutions.
"We are extremely pleased with Jon's recent nomination and achievement," said Cathy Leff, the museum's director. "The Wolfsonian has been an active member of this prestigious international association for approximately 10 years and we are honored that they have distinguished one of our colleagues and the museum in such a significant way."
Mogul is senior editor of the Journal of Decorative and Propaganda Arts. Prior to his position as academic programs coordinator at The Wolfsonian-FIU (a position created in 2009), he worked at the museum as fellowship coordinator and curatorial research associate. He holds a Ph.D. in history, with a specialization in modern Russia, from the University of Michigan.
Mogul has been the museum representative of ARIAH since 2004 and was installed at the organization's most recent meeting last month at the Frick Collection and Art Reference Library. During his three-year term, he will organize and chair the group's meetings as well as facilitate the exchange of information. Mogul notes that during his time as chair he hopes ARIAH can be instrumental in addressing one of the particular challenges that art historians face, namely the difficulty and expense involved in obtaining licenses to reproduce images, an issue of ever-growing concern during this time of reduced funding.
"I hope ARIAH can advocate for those researchers both within the museum world and beyond," he said. "This issue is particularly challenging for art history and related fields because it's often quite expensive to show even a small number of images."