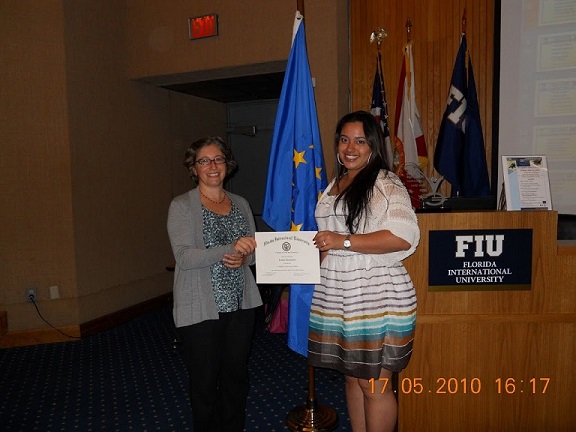 Dr. Rebecca Friedman awards recent graduate Susana Penaranda
Congratulations to our students who obtained their Certificates in European Studies this Spring 2010!
Elier Fernandez (B.A. National Security, Fall 2008);
Alejandra Salgado (B.A. International Relations and History, Spring 2009);
Marilyn Areas (B.A. Psychology, Summer 2009);
Andrea Espindola (B.A. Hospitality Management, Fall 2009);
Susana Penaranda (B.A. International Relations and Political Science, Spring 2010);
Justin Vizaro (B.A. International Business, Spring 2010).
In order to acknowledge their work, a Recognition and Award Ceremony was organized at FIU on May 21st, 2010. Dr. Rebecca Friedman, Director, European Studies, and prestigious members of the European Community presented the participants with their certificates. They included the Honorable ret. Ambassador to Germany, Dr. Volker Anding, Honorary Vice-Consul to the Republic of Poland Beata Paszyc, and representative of the consulate general of France, Martine Johnston.
After the Recognition and Awards ceremony, and cocktail, the center held a screening of the film" Nous nous sommes tant haïs", a fictional reenactment of the birth of the European Union.