Roundtable on Putin's Russia and the Future of U.S.-Russian Relations
Event information

| | |
| --- | --- |
| Start: | |
| End: | |
| Venue: | FIU - MMC - GC 150 |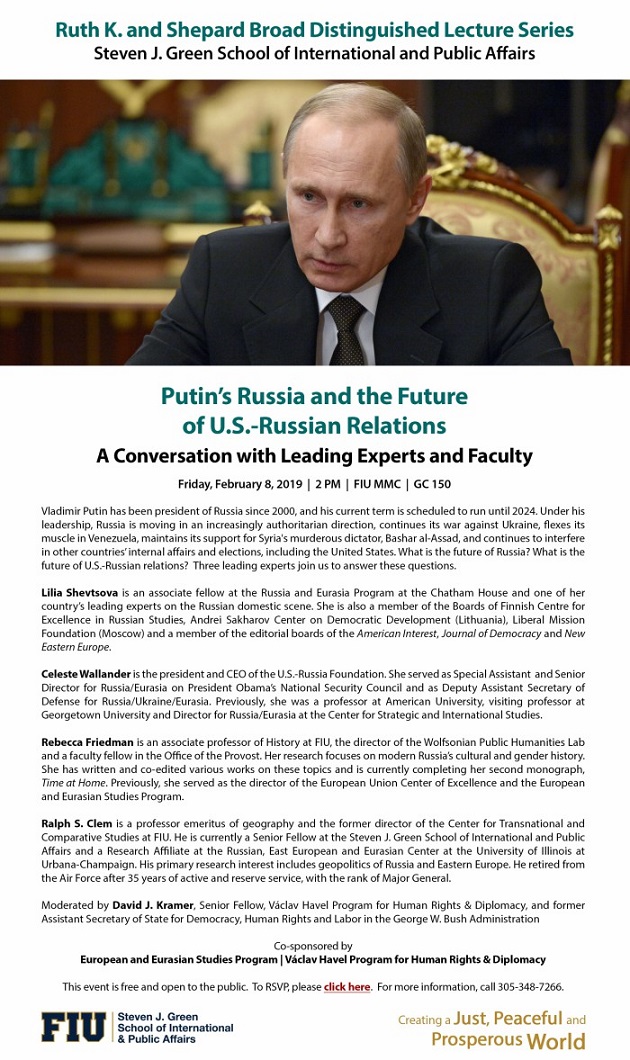 Ruth K. and Shepard Broad Distinguished Lecture Series
Steven J. Green School of International and Public Affairs


Putin's Russia and the Future of U.S.-Russian Relations
A Conversation with Leading Experts and Faculty

Friday, February 8, 2019 | 2 PM | FIU MMC | GC 150


Vladimir Putin has been president of Russia since 2000, and his current term is scheduled to run until 2024. Under his leadership, Russia is moving in an increasingly authoritarian direction, continues its war against Ukraine, flexes its muscle in Venezuela, maintains its support for Syria's murderous dictator, Bashar al-Assad, and continues to interfere in other countries' internal affairs and elections, including the United States. What is the future of Russia? What is the future of U.S.-Russian relations? Three leading experts join us to answer these questions.

Lilia Shevtsova is an associate fellow at the Russia and Eurasia Program at the Chatham House and one of her country's leading experts on the Russian domestic scene. She is also a member of the Boards of Finnish Centre for Excellence in Russian Studies, Andrei Sakharov Center on Democratic Development (Lithuania), Liberal Mission Foundation (Moscow) and a member of the editorial boards of the American Interest, Journal of Democracy and New Eastern Europe.

Celeste Wallander is the president and CEO of the U.S.-Russia Foundation. She served as Special Assistant and Senior Director for Russia/Eurasia on President Obama's National Security Council and as Deputy Assistant Secretary of Defense for Russia/Ukraine/Eurasia. Previously, she was a professor at American University, visiting professor at Georgetown University and Director for Russia/Eurasia at the Center for Strategic and International Studies.

Rebecca Friedman is an associate professor of History at FIU, the director of the Wolfsonian Public Humanities Lab and a faculty fellow in the Office of the Provost. Her research focuses on modern Russia's cultural and gender history. She has written and co-edited various works on these topics and is currently completing her second monograph, Time at Home. Previously, she served as the director of the European Union Center of Excellence and the European and Eurasian Studies Program.

Ralph S. Clem is a professor emeritus of geography and the former director of the Center for Transnational and Comparative Studies at FIU. He is currently a Senior Fellow at the Steven J. Green School of International and Public Affairs and a Research Affiliate at the Russian, East European and Eurasian Center at the University of Illinois at Urbana-Champaign. His primary research interest includes geopolitics of Russia and Eastern Europe. He retired from the Air Force after 35 years of active and reserve service, with the rank of Major General.

Moderated by David J. Kramer, Senior Fellow, Václav Havel Program for Human Rights & Diplomacy, and former Assistant Secretary of State for Democracy, Human Rights and Labor in the George W. Bush Administration

Co-sponsored by
European and Eurasian Studies Program | Václav Havel Program for Human Rights & Diplomacy

This event is free and open to the public. To RSVP, please click here. For more information, call 305-348-7266.