MEUCE European Film Series on WWI: "The Four Horsemen of the Apocalypse" (FIU)
Event information

| | |
| --- | --- |
| Start: | |
| End: | |
| Venue: | FIU - Graham Center - GC 140 |
"The Four Horsemen of the Apocalypse" is a vision of the 1st World War by Vicente Blasco Ibáñez.

Vicente Blasco Ibáñez wrote the novel The Four Horsemen of the Apocalypse from autumn 1915 to spring 1916 while the Allied Forces were fighting the advance of the German empire at the Battle of the Marne in World War I.
In this documentary, we hear Blasco Ibáñez, in his study in rue Rennequin in Paris, as he writes his newspaper articles and describes his state of mind, his conflicts with his editors, his meeting with the President of France – who made it possible for him to go to the battle fronts at the Marne and Reims, the price he paid for his ideas, and how he orchestrated the writing of his novel. We also see how a T.V. producer, charged with commemorating the start of WWI, set out to unravel the tangle of opinions, documents and images surrounding this author. Accomplishing this required much research and conducting interviews.
To view flyer, click here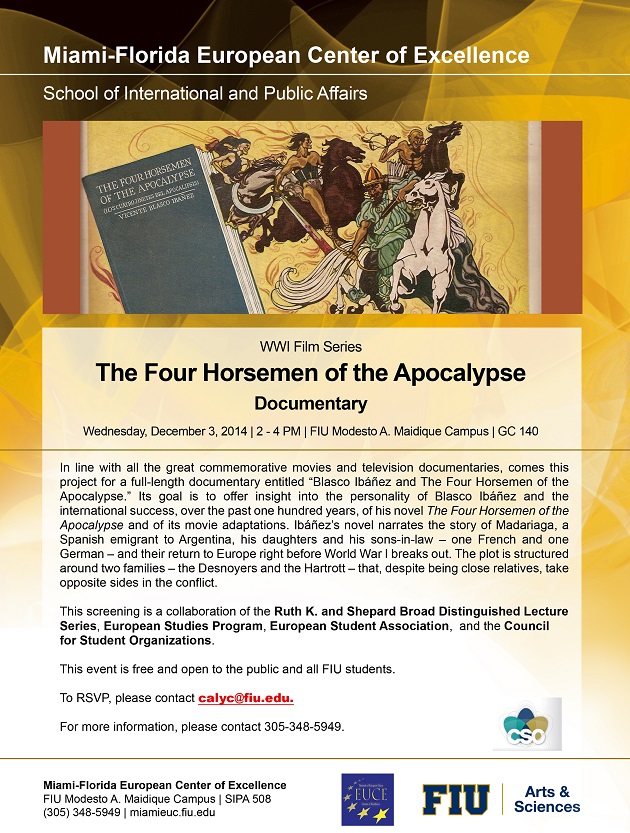 For Driving Directions, Map and Parking Information, click here