Testimonial Europe Summer 2012
Testimonial Europe Summer 2012
Student Testimonials on the Summer 2012 Multilevel Governance in Europe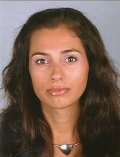 Adelina Georgieva Garkova
BA in Political Science, Minor in International Relations
"Multilevel Governance in Europe" was a challenging and rewarding experience that I took this summer. We were sixteen people from eleven nationalities – Bulgaria, Cuba, Argentina, Haiti, the Dominican Republic, Guatemala, Brazil, Columbia, Germany, Peru and the USA. I enjoyed not only the trip but the cultural experience that I got from each of the participating students.
I am a Bulgarian, a proud European and obviously it was not my first time in Europe but it was my first time experiencing Europe from institutional point of view. My major is Political Science and I have a minor in International Relations. We visited the main institutions of the European Union – the European Parliament and NATO in Brussels, United Nations in Geneva – Switzerland, the European Court of Human Rights and the Council of Europe in Strasbourg. It was a priceless experience to actually see what we have read in our textbooks, have an inside view of how these institutions are run and meet up with very influential people that work there. I am glad that when I came back, I was eligible to apply for the Certificate in European Studies which is great having in mind the European personality that I have.
We also did a political/historical/cultural tour to Paris – France, Bruges – Belgium, Colmar and Riquewihr – France. I enjoyed the little trips as well because they showed me another perspective of the country and I could see the major differences between the city and country life style. If you want to open your mind to another world, interact with totally different cultures, learn about the ancient European traditions and customs, this program is for you. If you want to meet up with young, ambitions, knowledgeable, energetic, intelligent and diverse students who can become your friends for life – choosing this program is the right choice to take. You have the opportunity now when you are a student, grab it with both hands, if it changes your life let it!